Post by mollysmomma on Jun 27, 2008 12:36:48 GMT -5
I'm on vacation!! but had the step daughter up at the beginning of the month, and she blew my bandwidth...so im on dial up "time out" for a month (gotta love the sattilite hi-speed)
anywayyyyyyyyyyy i took off 2 weeks the end of the month so that i could help with my FIRST G-BABY'S DELIVERY!! but she messed all that up by coming 3 WEEKS EARLY!!
WELCOME AUBREY JO!! 6-7-8 (same as jessica alba) who still is having some issues, but they are MINOR and expected with an early delivery. Mom was happy about it, because she weighed in at 6 LBS 14 OZ'S!! (im afraid to think of her weight had she gone to term...gabe (daddy) was 9#11/2 and tranversally breech...so THAT was A PAIN!!hahahahaha
All is well and I'm busy cleaning, cuz the rush of family is on it's way! Just wanted to check in, and say hey! I sponsored this month for all the birthdays in our family...but maybe i missed it?
LOVE LOVE LOVEEEEEEEEEEEEEE from our home to yours...and email me if anything drastic happens....
i'll be back (arnold shwarzenegger impression)
e & molly kate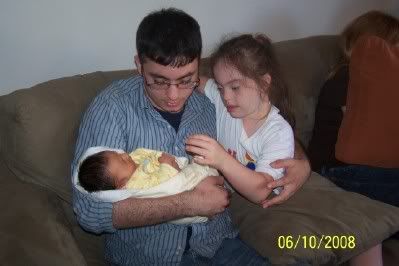 my june babies
little bill 6/11 (the uncle)
aubrey jo 6/7 (my new baby!)
molly kate 6/22 (molly kate is EIGHT!)